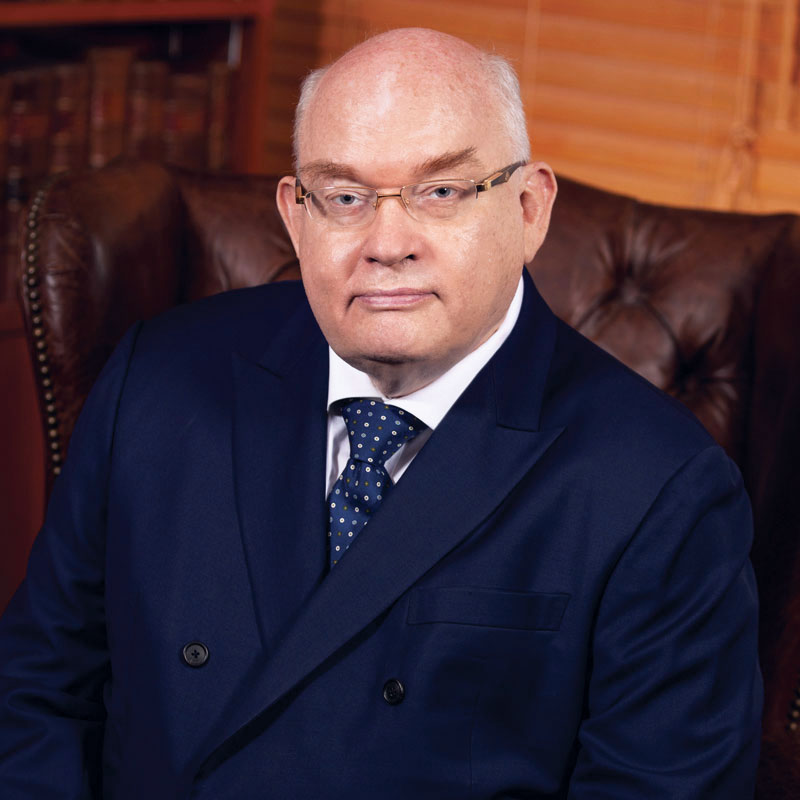 Call
1977 (England and Wales)
1985 (Hong Kong)
1997 Inner Bar (Hong Kong)
Areas of Practice
Criminal Law
Public Law & Judicial Review
Regulatory & Disciplinary
Philip studied English Language & Literature at Lincoln College, Oxford but decided to become a barrister in 1975, his last year at university. He joined Lincoln's Inn and was called to the Bar in 1977. After pupillage in Manchester, he joined chambers there and practised on the Northern Circuit for seven years. He had a general common law practice.
In 1985 Philip joined the Attorney General's Chambers in Hong Kong as a Crown Counsel. After a spell as a prosecutor he moved to the Legal Policy Division, which served the Solicitor General and Attorney General.
In 1989 Philip was appointed an Assistant Solicitor General with special responsibilities for producing a Bill of Rights. In the next two years Philip worked with the drafting team that eventually produced the Hong Kong Bill of Rights Ordinance. He also advised policy branches and government departments on the likely impact of the new law.
He was for a time part of the Hong Kong government contingent on the British side in the Sino-British Joint Liaison Group. He was also a member of the United Kingdom delegation reporting to the United Nations Human Rights Committee in 1991 on the implementation of the International Covenant on Civil and Political Rights as it applied to Hong Kong.
Philip left government service at the end of 1991 and went into private practice. He was one of the last barristers to be appointed Queen's Counsel in 1997. He served on the Bar Council for many years and became its Chairman in 2005 and served for 2 years. He was elected Chairman for the third time in January 2018 and the fourth time in January 2019.
Philip has developed a practice in constitutional and administrative law. He has appeared for both applicants and respondents in judicial review proceedings, including cases before the Privy Council before 1997 and the Court of Final Appeal after then. Philip has an established practice in immigration law, appearing first for Vietnamese refugees and asylum seekers in the early 1990's and then later for Mainlanders seeking to establish their status as permanent residents under the Basic Law. More recently he has been involved in several cases concerning persons who have claimed protection against refoulement under the United Nations Convention Against Torture.
Philip has appeared in cases concerning mutual legal assistance, including extradition matters. He has also handled election cases ranging from petition cases to constitutional challenges on restrictions on voting and standing for election. Philip also undertakes disciplinary cases and other regulatory work. He appears occasionally in the Court of Appeal and Court of First Instance in criminal appeals.
St. John Rigby Grammar School, Wigan, Lancashire
Lincoln College, Oxford (BA, English Language & Literature)
Chairman, the Hong Kong Bar Association (2005 – 2006, 2018 – 2019)
Vice Chairman, the Hong Kong Bar Association (1999 – 2000, 2003 – 2004)
England & Wales
Gilham v. Breidenbach [1982] RTR (DC) 328
Crime-Road Traffic Law-Powers of Arrest – Whether coarse language could revoke implied licence to enter private property.
Hussein v. Hussein [1983] Fam 26 (CA)
Conflict of Laws – Matrimonial – Potentially Polygamous Marriages – Circumstances in which a person with English domicile could contract a potentially polygamous marriage.
Hong Kong
Attorney General of Hong Kong v. Sham Chuen [1986] AC 887 (PC)
Criminal law – Offence of loitering under s. 160(1) Crimes Ordinance- ingredients of offence-giving loiterer an opportunity to explain suspicious conduct.
Attorney General of Hong Kong v. Lo Chak Man [1993] AC 951 (PC)
Criminal law – Presumption of innocence – Whether s. 25 (1)(a) Drug Trafficking (Recovery of Proceeds) Ordinance consistent with article 11(1) Bill of Rights Ordinance.
Kailey Enterprises Ltd v. Obscene Articles Tribunal [1995] 2 HKLR 132 (High Ct.)
Indecency – Jurisdiction of Obscene Articles Tribunal – Whether legislation could extend to a statue on private property.
Nguyen Tuan Cuong v. Director of Immigration [1997] 1 W.L.R. 68 (PC)
Immigration – Vietnamese asylum seekers – coming to Hong Kong after residing in Mainland – whether entitled to be treated as asylum seekers or whether Director of Immigration could refuse permission to land.
Oriental Daily Publisher Ltd. v. Commissioner for Television and Entertainment Licensing Authority (1997-1998) 1 HKCFAR 279 (CFA)
Media – Obscene and Indecent Articles Tribunal – whether under an obligation to give reasons for finding article obscene or indecent.
Matteograssi spa v. The Airport Authority [1998] 2 HKLRD 213 (CA)
Judicial review – decision to award contract – disappointed tenderer disputes decision – amenability of commercial decision to judicial review.
Ng Ka Ling v. Director of Immigration (1999) 2 HKCFAR 4 (CFA)
Constitutional law – Right of Abode – children of permanent residents born in Mainland – restrictions on entry – whether immigration legislation consistent with Article 24 Basic Law.
Uniglobe Telecom (Far East) Ltd. v.  HKSAR (1999) 2 HKCFAR 214
Telecommunications – construction of criminal offences – strict liability.
Secretary of Justice v. Chan Wah (2000) 3 HKCFAR 459 (CFA)
Judicial review – Elections – Restrictions on eligibility to vote in village elections in New Territories – Sexual discrimination – Arrangements not compatible with article 21 Bill of Rights Ordinance.
Helen Tsang v Cathay Pacific Airways Ltd. [2002] 2 HKLRD 677 (CA)
Sex discrimination – Different retirement ages for male and female cabin crew – No justification for difference.
Commissioner for Television and Entertainment Licensing v.  Amusement Game Centres Appeal Board [2004] 1 HKLRD 765 (CA)
Judicial review – Procedure-Calculation of time for O. 53 r. 4 purposes when decision made on one date but reasons given on a later date.
Sakthvel Prabakar v. Secretary for Security (2004) 7 HKCFAR 187 (CFA)
Immigration – Director of Immigration not complying with promise to undertake a review of all claims for protection under UN Convention on Torture – Not able to rely on non-justiciable refugee determination by UNHCR office.
So Wai Lun v. HKSAR (2006) 9 HKCFAR 530 (CFA)
Criminal – Offence of unlawful sexual intercourse with female under 16- Whether an offence of absolute liability.
Secretary of Justice v. Yau Yuk Lung, Zigo (2007) 10 HKCFAR 335 (CFA)
Criminal – constitutionality of homosexual buggery offence under Crimes Ordinance, Cap. 200.
Qamar Sheraz v. HKSAR (2007) 10 HKCFAR 696 (CFA)
Criminal – Costs – Whether appeal judge could impeach an acquittal by a magistrate in appeal by defendant against refusal by magistrate to grant costs of defence.
Mandy Tam v. Hong Kong Institute of Certified Accountants [2008] 1 HKLRD 238 (CFI)
Judicial review – Whether legislative councillor for functional constituency could be prevented from communicating with constituents by decision of professional body.
A & ors. [2008] 4 HKLRD (CA)
Judicial review – Immigration-Administrative detention – Whether open-ended detention made unlawful by lack of accessible detention policy.
Philip KH Wong, Kennedy YH Wong & CO v Commissioner of Independent Commission Against Corruption [2009] 5 HKLRD 379 (CA)
Judicial Review – Validity of search warrant issued under Independent Commission Against Corruption Ordinance – Search warrant could not be issued for material subject to legal professional privilege.
Chu Yee Wah v Director of Environmental Protection [2011] 5 HKLRD 469 (CA)
Judicial review – Environmental permit for Hong Kong section of Hong Kong-Zhuhai-Macau Bridge project – whether a stand-alone assessment of projected environmental conditions without project is required by relevant technical memorandum or study briefs.
Ghulam Rbani v Secretary for Justice for and on behalf of the Director of Immigration (2014) 17 HKCFAR 138 (CFA)
Immigration – Power of detention under the Immigration Ordinance pending decision whether to make removal order – Excessive period of detention – Claim for false imprisonment succeeded.
BI & BH v. Director of Immigration [2016] 2 HKLRD 520 (CA)
Immigration — Director of Immigration — Dependant visa policy — Whether Director misapplied policy — Whether requirement that there was no known record to the detriment of applicant a necessary condition — Whether Director obliged to consider family rights — Proper interpretation — Context of overall immigration control policy.
Law Chi Yuen v. Secretary for Education [2016] 5 HKLRD 302 (CFI)
Education – Disability discrimination-allocation of Native English-speaking teachers to schools – whether content of English language courses in some schools for intellectually disabled different from courses in other schools – unlawful discrimination in allocation of resources.
Leung Sze Ho Albert v. Bar Council of The Hong Kong Bar Association [2016] 5 HKLRD 542 (CA)
Human Rights — Freedom of choice of occupation — Barristers — Bar Council refused permission to practising barrister to work part-time as neuro-beautologist — Judicial review — Whether para 23 of the Code of Conduct of the Hong Kong Bar requiring permission before engaging in supplemental occupation infringed art 33 of Basic Law — Adequacy of reasons for refusal — Basic Law of the HKSAR art 33.
Chief Executive of HKSAR v. President of the Legislative Council [2017] 1 HKLRD 460 (CA)
Judicial review – Legislative Council Oaths – Oaths and Declarations Ordinance – whether the Courts should decide on the validity of oaths taken by Legislative Council members considering the principle of non-intervention of the Legislative Council's internal business.
Chief Executive of HKSAR v. President of Legislative Council [2017] 4 HKLRD 115 (CFI)
Oath-taking – whether the Court should inquire into whether the oath taker genuinely and faithfully believe in the obligations pledged in the oath – whether infringement of the allegiance obligations – whether subjective explanation of the oath taker relevant – whether the action should be stayed due to abuse of process.
Y v. Law Society of Hong Kong (HCAL 39/2016, 28 April 2017, Au-Yeung J) (CFI)
Publication by Law Society of details of offence of dishonesty-information supplied by person making inquiry about eligibility to join profession-whether Rehabilitation of Offences Ordinance, Cap. 297 applied – whether information supplied to Law Society covered by Personal Data (Privacy) Ordinance, Cap 486
S v. J (HCMP 1857/2016, 8 September 2017, Au-Yeung J) (CFI)
Family Law — Parental order — Children conceived using gametes of husband and wife — Two surrogate mothers — Wife refusing to join in application — effect of Chinese Nationality law on children born under such arrangements-Application for parental order by a single application incompetent — Parent and Child Ordinance (Cap 429) s 12.
'For the term of his natural life' Law Working Paper Series, Paper No. 4, Faculty of Law, Hong Kong University (1992) (study of the evolution of the indeterminate sentence in English and colonial penal legislation.)
'Must Private Respects Always Yield to the Public Good?', paper for the Archbold Hong Kong Criminal Law Conference 2004, 13 Nov 2004.
'Professional Conduct and Risk Management in Hong Kong', Sweet & Maxwell (2007) (as General Editor)
'The Functions of Judicial Review in Hong Kong' Paper published in 'Effective Judicial Review: A Cornerstone of Good Governance' Oxford University Press (2010)
'International Sources of Discrimination Law" Paper published in 'Discrimination Law & Practice in Hong Kong' Sweet & Maxwell (2011)