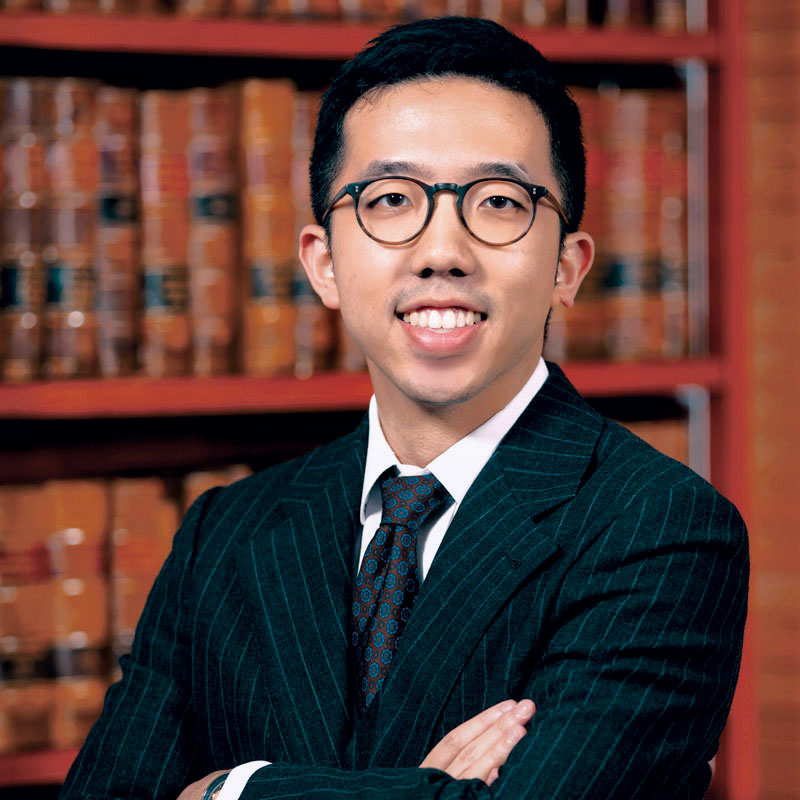 Languages
English, Cantonese, Mandarin
Areas of Practice
Commercial & Banking Law
Companies
Competition
Compulsory Sales of Land
Conflicts of Law
Construction
Contract
Criminal Law
Defamation
Equity & Trusts
Family & Matrimonial Law
Financial Services Regulation
Injunction & Contempt
Insolvency
Intellectual Property
Medical Negligence & Personal Injury
Probate & Succession
Property & Land
Public Law & Judicial Review
Regulatory & Disciplinary
Unjust Enrichment
Timothy joined Chambers following the completion of his pupillage with Mr Robert Pang SC, Mr Abraham Chan (now Mr Abraham Chan SC), Mr Simon Chan, Mr Eugene Yim, and Mr Tony Li, and marshalling with Recorder Mr Robert Whitehead SC (as he then was).
He is an all-round junior whose practice covers all Chambers' main areas of work.
He has appeared, both as sole counsel and led junior, in a range of matters including:
commercial disputes
matrimonial disputes
corporate insolvency litigation
shareholder and partnership disputes
civil fraud
commercial crime trials
Timothy is also regularly instructed in complex and high-profile disputes, a notable example being the winding-up and provisional liquidation of Ting Wai Monastery Limited, the charitable company which maintains the 96-year-old Ting Wai Monastery.
Timothy read law at St. Catherine's College, University of Oxford, where he was awarded a BA in jurisprudence.
He is capable of providing submissions and advice (both oral and written) in Chinese and English.
BA (Hons.) Jurisprudence, University of Oxford (2013)
PCLL, University of Hong Kong (2014)
Re Ting Wai Monastery [2018] 1 HKLRD 346 – winding up and provisional liquidation of a company formed for charitable purposes (with Jason Yu)
Ting Wai Monastery Ltd (in liq) v Lung Yan Loi & Ors, HCA 182/2018 – obtained Mareva injunction against the defendants (with Jonathan Chang)
Re Sky River International Trading (HK) Limited, HCCW 225/2018 – obtained a winding-up order and a personal costs order against the opposing contributories (as sole counsel)
Redoak Capital Ltd v Standard Industrial International Company Ltd, HCA 1625/2017 – resisted an appeal against master's decision to order securities for costs (led by C Y Li SC)
SYC v XWS, HCMP 2269/2018 – acted for the applicant in a wardship application (as sole counsel)
Wilkie Wong v The Incorporated Owners of Hamburg Villa, HCA 2088 of 2014 – resisted an application regarding scale of costs (as sole counsel)
Ho Kwok Wa v Yip Yuk Kwan & Anor, HCA 1096/2013 – represented the successful 1st Defendant in a hearing on whether the parties formed a conclusive settlement (as sole counsel)
LKFJ v CFH, FCMC 10082/2016 – acted for the successful respondent and 1st intervener in a trial concerning the beneficial ownership of landed properties (as sole counsel)
QMY v GSS, FCMP 147/2012 – acting for the applicant in a trial concerning an application for child maintenance and carer's allowance under the Guardianship of Minors Ordinance (with Eugene Yim)
CK v TCH, FCMC 5240/2011 – resisted an application to vary a Mareva injunction order (as sole counsel)
香港特別行政區 v 梁肇倫, WKCC 2347/2017, HCMA 538, 2018 – represented a former HSBC staff on charges of bribery in a 15-day trial and magistracy appeal (with Adonis Cheung)