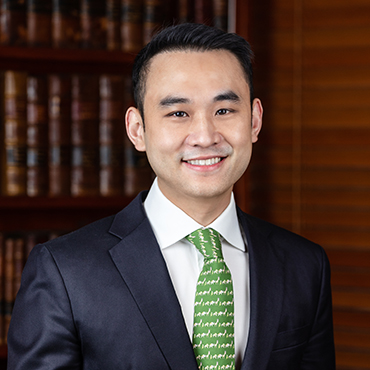 Call
2014 (Enrolled as solicitor and barrister of the Supreme Court of Australia (Vic))
2013 (Hong Kong)
2011 (Enrolled as solicitor and barrister of the New Zealand High Court)
Professional Qualifications
2017 (Associate of the Hong Kong Institute of Arbitrators)
2011 (LEADR Accredited Mediator, AUS & NZ)
Raymond has been enrolled as a solicitor and barrister of the New Zealand High Court for over a decade. He commenced full practice in Hong Kong in 2013 upon completing his pupillage with Mr. Paul Shieh S.C., Mr. Bernard Man S.C., Mr. Edwin Choy S.C., Mr. Eugene Yim, and Mr. Steven Kwan.
Raymond is regularly instructed on a wide-range of civil matters. He has a particular focus on strategy and advocacy. He is client-friendly and responsive.
His practice areas include:- contract, land, contentious probate, family, equitable remedies, professional liability, as well as commercial disputes. He acts and advises listed companies in regards to director duties and shareholder rights. Being an associate of the Hong Kong Institute of Arbitrators, he also has experience in all stages in arbitration. He has acted as expert in advising Hong Kong law to foreign firms and clients.
The University of Hong Kong, P.C.LL. (2012-2013)
The University of Auckland, New Zealand, LL.B. (Hons.)/BSc (2005-2011)
Middle Temple Scholar (2013)
1st in Family Property Law, University of Auckland Law School (2010)
1st in International Environmental Law, University of Auckland Law School (2010)
Southern Trust Scholarship – Academic Excellence (2008)
ASB Bursary Award – Academic Excellence (2008)
Land Trust and Probate Committee Member (2021 – present)

Part-Time Lecturer, The University of Hong Kong (2020 – present)

HKMLA Member (2019 – present)

HKIAC Associate (2019 – present)
General Civil and Commercial
Re Lau Kam Sing Dickie [2023] 4 HKC 1: resisting appeal against bankruptcy petition
Base Media Technology Group Limited v Cedarwood VFX & Animation Holding (Singapore) Pte Ltd HCA 852/2023: resistance of injunction against Big Four professional receivers
Re: Mega Majestic Group Ltd HCMP 1832/2021: Order 88 application for $280 million debt and full interest provision by covenant
Nonghyup Bank (as trustee of Pacificbridge Gold Income Fund 1) v Universe Income Builder Fund V LLC and Anor [2021] HKCFI 107: urgent discharge of a Mareva injunction with indemnity costs
Li Chi Ngai Anthony v Siu Tak Wa HCA 887/2020: appeal against summary judgment for dermatology business and Sale and Purchase Agreement (led by Mr. Victor Dawes SC)
Re Lau Kam Sing Dickie [2021] HKCA 1149: resisted application to adduce further evidence pursuant to Order 59, rule 10(2) of the Rules of the High Court on basis of delay
China Shanshui Cement Group Ltd v Ng Sau Man Clifford [2020] HKCFI 2677: payment of costs in regards to withdrawal of case by consent
Top Winton Ltd v Lam Chun Man [2018] 3 HKLRD 636: appeal to enforce contractual rate post-judgment and instatement of indemnity costs
Li Chi Ngai Anthony v Siu Tak Wa [2021] HKCFI 1616: appeal obtaining summary judgment in regards to sale and purchase agreement of a medical business
X v Y [2019] HKCFI 2880: resisting statutory demand for $300 million against private bank
Joseph Leung & Associates (a firm) v Sham Yick Chun Gary and Anor [2014] HKCFI 864: committal proceedings and breach of mandatory injunction court order (led by Mr. Robert Pang SC)
Nam Kee Travel Co Limited v Yip Wing Ching HCA 1061/2014: Mareva injunction to prevent dissipation of substantial monies and assets (led by Ms. Linda Chan SC – as she then was)
Re: TZ (led by Mr. Philip Dykes SC): writ of habeas corpus of a prominent businessman travelling through Hong Kong
Matrimonial and Probate
YMT v WTZ FCMC 9320/2022: application for maintenance pending suit (MPS) and costs of main suit
FYK c HCC FCMC7022/2021: MPS and legal provisions; costs order forthwith in regards to variation of costs order nisi
Thian Sum v Yung Shui Tong [2019] HKCFI 2867: application for removal under section 33(3) of the Probate and Administration Ordinance (Cap. 10)
Re: a Child HCMP 1731/2019: urgent application in resisting removal of a child to out of jurisdiction
CTK v CPL FCMP 167/2014: application after trial for limiting maintenance and obtaining custody, care and control of a child
A v B [2017] 1 HKLRD 187: division of family property in regards to enhanced earning capacity (led by Mr. Bernard Man SC)
KX v YG FCMC 8638/2015: discharge of Mareva injunction with costs (led by Mr. Russell Coleman SC – as he then was)
Professional Liability
Citic Limited (formerly known as Citic Pacific Limited) v Secretary of Justice and Commissioner of Police [2015] 4 HKLRD 20: Hong Kong's leading authority on legal professional privilege (led by Mr. Collingwood Thompson QC, Mr. Paul Shieh SC, Mr. Victor Dawes SC)
Ng Chiu Mui & Anor v Robertsons (a firm) [2014] HKCFI 1967: trial on solicitors' negligence in relation to the handling of Securities and Futures Commission hearings (led by Mr. Victor Dawes SC)
Joseph Leung & Associates (a firm) v Sham Yick Chun Gary and Anor [2014] HKCFI 864: committal proceedings and breach of mandatory injunction court order (led by Mr. Robert Pang SC)
Experience in a number of professional negligence and disciplinary matters (accountants, medical professionals, and others)
Arbitration and related matters
Fung Hing Chiu v Henry Wai & Co [2018] 1 HKLRD 808: stay of arbitration pursuant to section 67 of the Legal Practitioner's Ordinance (Cap. 159) (appeared with Mr. Kelvin Liu)
Experience in a number of ad hoc and HKIAC arbitration proceedings
Resisting winding-up for HK-listed companies Jiayuan International Group Ltd (Stock Code: 2768); Samson Papers Holding Ltd (Stock Code 731), and against subsidiary by Italian Listed Company (PINF)

Recovery of debt pursuant to management fees for significant hotels in the Mainland and shareholder disputes ($80 million)

Breach of section 375 CO in regards to long-standing printing business in HK

Partnership disputes in regards to private dermatology practice and franchises

Debts pursuant to illegality and enforceability of gambling ($70 million)

Consignment and misappropriation of goods ($150 million)

Injunction in regards to shareholder meeting and application of contractual terms and by-law

Cross-border protection of assets including landed properties (in commercial and family context) $500 million pot

Contentious probate of $200 million pot

Professional negligence and disciplinary matters (accountants, medical professionals, and others)

Construction (in regards to a university project and applicability of technical requirement clause)
Hong Kong Lawyer (May 2018) "Not all Arbitration Agreements between Solicitor and Lay-client are Enforceable"
Lexis Nexis, Lexis Practical Guidance, Contributor for Applicable Law and Jurisdiction, Litigation, Evidence and Discovery
Lexis Nexis, Lexis Practical Guidance, Apology Ordinance