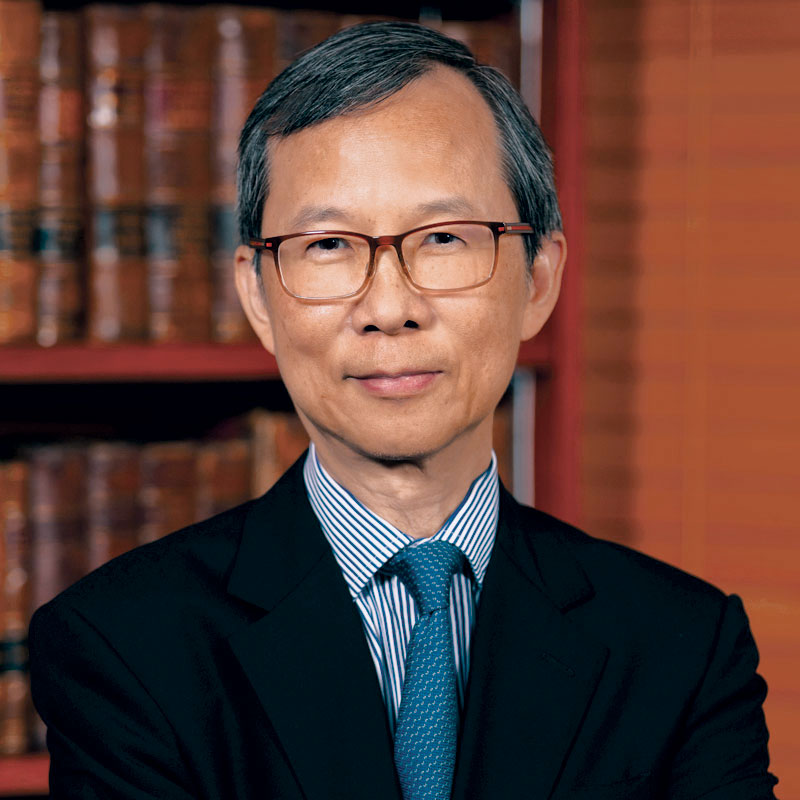 Valentine's practice is mainly in civil law with emphases on property law, contract disputes, town planning, and public and administrative law, including judicial review.  He has appeared in the Town Planning Board, Town Planning Appeal Board, Lands Tribunal, Court of First Instance, Court of Appeal, Privy Council and Court of Final Appeal in cases concerning land, town planning, judicial review, valuation and compensation.
He has represented and advised clients on various legal aspects of property development including town planning, development feasibility and development intensity. He has also represented and advised clients in relation to title disputes in conveyancing transactions.
Before commencing private practice as a barrister in 1992, Valentine had served in various capacities with various departments and policy branches of the Hong Kong Government for 15 years (Tsuen Wan District Office, New Territories Administration, Finance Branch, Education and Manpower Branch, Government Secretariat, Attorney General's Chambers, Land Office, Registrar General's Department, Chief Secretary's Office, Government Secretariat).
B.A. (Hons.) (History and Political Science), University of Hong Kong (1977)
Postgraduate Course for Administrative Development for Hong Kong, Oxford University (1978 – 1979)
LL.B. (Hons.), University of Hong Kong (1985)
P.C.LL., University of Hong Kong (1986)
Member, Council of the Hong Kong Bar Association (1997 – 1999, 2000 – 2001, 2005 – 2006)
Member, Panel of Barristers' Disciplinary Tribunal (1999 – 2000)
Member, Disciplinary Board Panel, Land Survey Ordinance (1997 – 2005)
Member, Insurance Agents Appeal Tribunal (2000 – present)
Legal Advisor to the Immigration Tribunal (2005 – 2006, 2007 – 2008)
Penny's Bay Investment Co. Ltd. v Director of Lands (2010) 13 HKCFAR 287 (appeared for Director of Lands on the compensation payable for "injurious affection" caused to a person's marine right as a result of reclamation of land under the Foreshore and Sea-bed (Reclamations) Ordinance)
Chan Shun v Ng Yiu Leung Danny, CACV 365/2008 (appeared for a purchaser of residential property in relation to defect of title caused by mistakes in title documents)
International Trader Ltd. v Town Planning Appeal Board [2009] 3 HKLRD 339 (appeared for Town Planning Board in relation to a planning decision concerning proposed property development at the Western Mid-Levels)
Rank Profit Industries Ltd. v Director of Lands [2009] 1 HKLRD 177 (appeared for a developer in an application for Judicial Review against a decision of the Director of Lands concerning lease modification)
Rank Profit Industries Ltd. v Secretary for Justice [2009] 1 HKLRD 194 (appeared for a developer in claims against the Hong Kong Government for breach of contract and derogation from grant
Wong Ping Hung Adam v Director of Housing, HCAL 141/2007 (appeared for a resident of a public housing estate against the decision of the Director of Housing in relation to proposed extension works in a shopping centre in the estate)
Hondon Development Ltd. & Another v Powerise Investment Ltd & Another [2005] 3 HKLRD 605 (appeared for a purchaser of commercial property for claims in recission against vendor and for professional negligence claim against solicitors)
Chau Ka Chik Tso & Others v Secretary for Justice, HCA 10670/2000 (appeared for occupiers of land in the New Territories for claims of adverse possession against the Hong Kong Government)
Kwan Shung King v Housing Appeal Tribunal [2002] 2 HKLRD 764 (appeared for a resident of a public housing estate against the decision of the Housing Appeal Tribunal in relation to the termination of a tenancy agreement by Director of Housing)
Feerni Development Ltd. v Daniel Wong & Partners (a firm) [2001] 2 HKLRD 13 (appeared for a purchaser of residential property for professional negligence claim against solicitors)
Chim Pui Chung v The President of the Legislative Council [1998] 2 HKLRD 552 (appeared for the President of the Legislative Council in relation to a Judicial Review challenge against her decision to place a certain motion on the agenda for a Legislative Council meeting)
Henderson Real Estate Agency Ltd v Lo Chai Wan, Privy Council Appeal 54/1996, [1997] HKLRD 258 (appeared for a developer in relation to the planning intention of a statutory plan under the Town Planning Ordinance)
Pang Nap Pui v Director of Lands, HCA 3857/1994 (appeared for the personal representative of the estate of a New Territories indigenous villager against the Director of Lands in a contractual claim in relation to a small house grant under the Small House Policy)