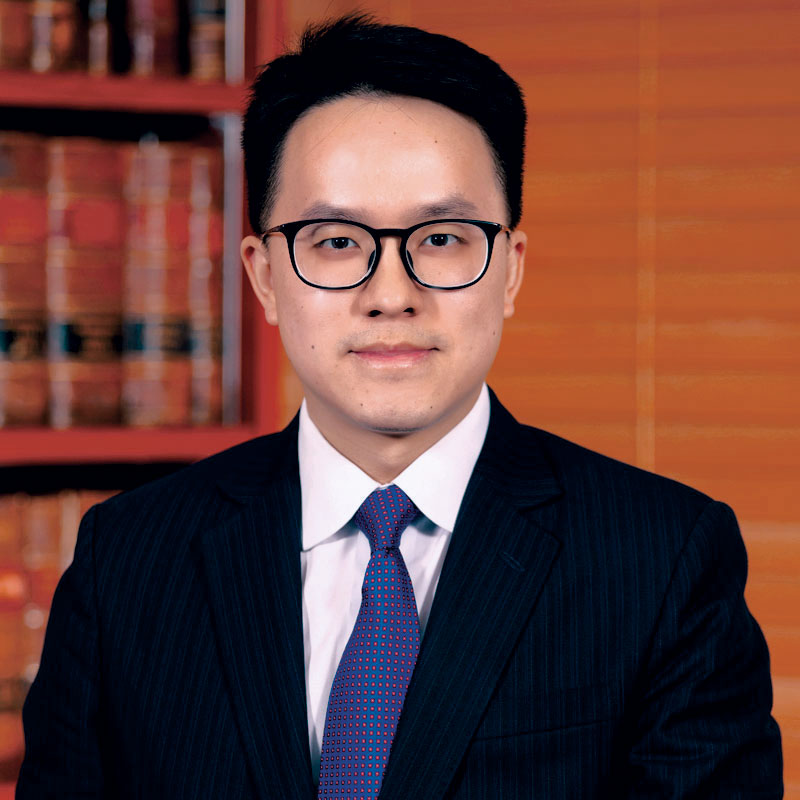 Languages
English
Cantonese
Mandarin (working knowledge)
Japanese (basic)
Areas of Practice
Commercial & Banking Law
Companies
Conflicts of Law
Criminal Law
Injunction & Contempt
Medical Negligence & Personal Injury
Probate & Succession
Property & Land
Regulatory & Disciplinary
Unjust Enrichment
Brian has a broad practice comprising both civil and criminal matters, concentrating on advocacy whether oral or written. He is equally comfortable with conducting cases in Chinese or English.
For his criminal practice, Brian frequently appears in magistrates' courts to defend a wide range of cases including ICAC matters, CCB matters, dishonesty crimes, violence, sexual offences, dangerous drugs, immigration and traffic offences. Brian is also regularly instructed to defend more complex and lengthy cases in the District Court. The trials conducted by Brian often involve challenge to admissibility of evidence. Brian has solid experience handling criminal appeals to the Court of First Instance and Court of Appeal, whether as a sole advocate or a led junior.
On the civil side, Brian acts for clients who need to take out or resist urgent applications for interim injunctions and reliefs. He has substantial experience in company and shareholders' disputes, money lenders, property, commercial fraud, personal injury and civil contempt cases. He has been instructed to conduct trials and various interlocutory hearings.
Brian is favoured by law firms of all sizes and specialties. His experience in a corporate law firm prior to joining the Bar enables him to work especially well with a team of solicitors as well as other professional parties in more complex matters.
Bachelor of Arts, University of Warwick
Graduate Diploma in Law, The College of Law
Postgraduate Certificate in Law, University of Hong Kong
Criminal Appeals
HCMA 319/2019 (led by Selwyn Yu SC), HCMA 311/2018, HCMA 414/2018; Appeals against conviction in respect of sexual offences
HCMA 10/2019; Appeal against convictions in respect of certain industrial summonses
HCMA 310/2018 (led by Selwyn Yu SC); Appeal against sentence for tier 3 drink driving offence
HCMA 261/2018; Appeal against conviction for a C & E officer
HCMA 201/2016 (with Mr. Lawrence Hui); Appeal against conviction and sentence in respect of "employing unemployables"
CACC 216/2016 (led by Selwyn Yu SC); Appeal against conviction in respect of "dangerous driving causing GBH"
Criminal Trials
DCCC 1051/2016 (led by Selwyn Yu SC); Acquittal of the offence of "money laundering"
DCCC 19/2015 (led by Selwyn Yu SC); Acquittal of the offence under section 9 of POBO
Civil
HCA 2211/2015 – Gain East Investments Ltd v Chan Po Wing; Money lenders disputes
HCA 2649/2017 – 陳寶榮 v 駿豪國際 (集團) 發展有限公司; Money lenders disputes
HCA 2680/2018 – Lin Chien Cheng v Hui Chi Keung; Enforcement of foregin judgments
DCEC 832/2017 – Lui Cho Yin v 雷健邦 & Ors; Joinder of parties
DCPI 206/2017 – Lee Chi Ming v E Entertainment Weekly Limited; PI trial
HCMP 2641/2017 – Tam Tak Yam v Man Shing Textiles & Ors; Revocation of registration with the Companies Registry
DCPI 1121/2014 – Tong Yuk Tai v NEP Holdings International (HK) Limited and Chew Sooi Kuen; PI trial
HCA 131/2014 – China Money Asia Limited and Yip Wai; setting aside default judgment
HCMP 3176-3177/2016 – Fast Happy Ltd v Lee Chun Pong Bruce (with Mr. Kevin Hon); Disputes on sale of land