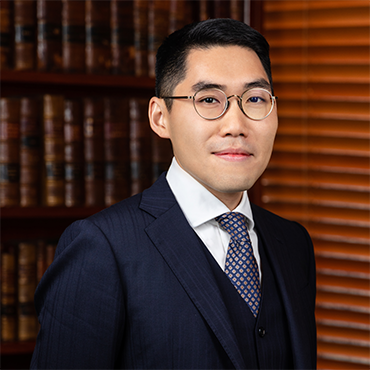 Professional Qualifications
Member, Chartered Institute of Arbitrators (MCIArb) (2022)
Accredited Civil & Commercial Mediator, Society of Mediators, UK (2019)
Insolvency Preparatory I & II (as part of the Professional Diploma in Insolvency programme), The Hong Kong Institute of Certified Public Accountants (2018, 2022)
HKSI Practicing Certificates (Securities; Corporate Finance), Hong Kong Securities and Investment Institute (2015)
Languages
English
Cantonese
Mandarin
Areas of Practice
Arbitration
Chinese Customary Law
Commercial & Banking Law
Companies
Compulsory Sales of Land
Construction
Employment
Equity & Trusts
Insolvency
Intellectual Property
Land Resumption & Land Compensation
Mental Health
Probate & Succession
Property & Land
Public Law & Judicial Review
Unjust Enrichment
Jeff has a broad civil practice with a primary focus on commercial disputes, company and insolvency law, land and property as well as probate, trusts and mental health matters. He also has experience in advising on employment law, intellectual property and judicial review.
He is also actively developing a practice in international commercial arbitration and is a member of the Chartered Institute of Arbitrators and an HKIAC Accredited Tribunal Secretary.
He is frequently instructed to appear as an advocate in the High Court (including the Court of Appeal), the District Court, the Lands Tribunal, statutory boards and arbitral proceedings. He has ample experience throughout the civil litigation process, including interlocutory applications, trials, appeals and taxation proceedings. Jeff is equally comfortable acting on his own and as part of a larger team in more complex and high-value matters, which frequently involve his acting for and/or against listed companies and cross-border dimensions. He has also acted for and advised public bodies.
Jeff studied at the University of Hong Kong, where he graduated third in his cohort in law and was placed on the Dean's Honours List for three consecutive years. He went on to read for a Master of Laws degree at King's College London and graduated top of his class with the Dickson Poon School of Law Prize.
Born and educated in Hong Kong, Jeff is adept at using of the Chinese language in oral advocacy and drafting legal documents.
LLM, King's College London
PCLL, The University of Hong Kong
LLB, The University of Hong Kong
BBA (Law), The University of Hong Kong
St Joseph's College, Hong Kong
The Dickson Poon School of Law Prize (2019)
Second Honourable Mention for Best Mooter, the 16th Red Cross International Humanitarian Law Moot (Asia-Pacific Region) (2018)
MW Lo Memorial Scholarship (2017)
Dean's Honours List (2015, 2016, 2017)
CH Chan Scholarship (2012)
Contributor, Lexis Advance® Hong Kong Practical Guidance on "Intestacy" and "Will Drafting" by LexisNexis
Commercial
Target Insurance Company Limited v Ng Yu & Ors:

[2023] HKCFI 7; [2023] HKCFI 565 — discharging an ex parte Mareva injunction for US$150 million fraud claim involving the largest motor insurer in Hong Kong (led by Robert Whitehead SC)
[2022] HKCFI 1362 — obtaining an interim stay and variation of a disclosure order (led by Robert Pang SC)
Realord Group Holdings Limited & Anor v Win Dynamic Limited & Anor (HCA 716/2021) — acting for the plaintiffs in enforcing a deed of gift under which an offeree undertook to advance the whole consideration of over HK$250 million under a voluntary general offer to the company (led by Jin Pao SC and with Vincent Chen)
Li Ngan Kwan v Gao Li Hui & Anor (HCA 276/2007) — acting for the 1st Defendant in defending a claim to set aside a gift of a controlling interest in a hotel in Shenzhen of a value of over RMB¥300 million on the ground of forgery and breach of fiduciary duties (with Andrew Mak)
Agostino Gallucci v Marco Toscano & Ors (HCA 199/2017) — acting for a minority shareholder of a BVI company in enforcing a right of pre-emption under a shareholders' agreement governed by Hong Kong law, which has been triggered by a sale and purchase agreement governed by Italian law
Mason Group Holdings Limited v Hau Kwok Po & Ors (HCA 1114/2021) — acting for a defendant in striking out a conspiracy claim involving an allegation of an inflated sale of shares in a diagnostics service company for over HK$200 million
Advised a financial services company on the applicability of various exemptions under the Securities and Futures Ordinance (Cap. 571) to deal in and advise on securities
Advised a cell-based food company on a dispute with an angel investor arising out of a SAFE (simple agreement for future equity) agreement
Advising on and/or acting for parties in relation to (i) joint venture, partnership and shareholder disputes, and (ii) investment agreement disputes
Arbitration
Kamling International Ltd v First Resources (HK) Development Ltd [2023] HKCFI 1713 — resisting an application for stay of proceedings in favour of arbitration in the PRC
HKIAC Rules, acting for a respondent in resisting the specific performance of an investment agreement and advancing counterclaims with a view to unwinding a merger of various corporate entities
Advised a PRC media company on the recoverability of damages for over RMB¥170 million arising from a breach of an investment agreement (led by Robert Whitehead SC)
HKIAC Rules, acted for a PRC beverage company in defending a claim of over US$450 million, which involved various interim proceedings such as applications for injunctive relief, joinder, jurisdictional challenge, etc. (with Vincent Chen)
Winding-up & Bankruptcy
Dadra Inc. v Chan Choi Har Ivy [2023] HKCA 707 — applying for an interim stay of an imprisonment order pending appeal on the ground that the Court lacks jurisdiction to proceed with an Order 49B examination vis-à-vis a bankrupt
Wu Ming Fat Simon v Ho Siu Lun Alan [2023] HKCFI 1088 — resisting an application to set aside a statutory demand on the ground that no security has been created over the underlying debt as a matter of law and failure to state the same in the statutory demand does not render it invalid
Re Ashit Sud (Debtor) [2022] HKCFI 1269

,

reported at [2022] 2 HKLRD 898; [2022] 4 HKC 575 — resisting a winding-up and bankruptcy petition for a debt of US$30 million on the ground that the creditor has rejected a reasonable offer to compromise and secure
NWK 對 CCL [2022] HKCFI 3595, reported at [2023] 4 HKC 160 — resisting an application to review a decision to set aside a statutory demand
Re Aeso Holding Limited (HCCW 218/2017

)

— acting for a listed company in reviewing the taxation of former provisional liquidators' bill
Advising on and/or acting for petitioners and debtors in relation to various winding-up and bankruptcy proceedings, including but not limited to unfair prejudice petitions, setting-aside of statutory demands, review of remuneration of provisional liquidators, etc.
Will, Trusts, Probate & Mental Health
Young Chi Kin Eric v The Personal Representatives of Zhong Xian Wen, Deceased & Anor [2023] HKCFI 1783 — applying for vesting order of BVI shares vested in the estate of a deceased who passed away in Hong Kong intestate
Re KCC — acting for an interim receiver of an alleged MIP in the mental health proceedings and the related proceedings for recovery of misappropriated assets in the sum of HK$30 million and disclosure against the alleged MIP's former solicitors (led by Sara Tong SC)
Re YLC — acting for a committee appointed under the Mental Health Ordinance (Cap. 136) on whether an action/application brought by a committee before the sanction of the mental health court has been obtained is valid
Advised a beneficiary on the enforceability of a deed of family arrangement
Property & Conveyancing
Vivid Limited v Hotel and Guesthouse Accommodation Authority (Appeal Case Nos. (1) 53-1/2022 & (2) 54-2/2022

)

— appealing against the decision of the Hotel and Guesthouse Accommodation Authority to refuse to renew a license to operate on the ground that the Authority misinterpreted the word "hotel" under section 12 J of the Hotel and Guesthouse Accommodation Ordinance (Cap. 349)
Advising on and/or acting for parties in relation to (i) conveyancing disputes, (ii) claims of adverse possession and various rights of easement (including right of way, drainage easement, etc), (iii) Chinese customary law, in particular the administration of tso/tong affairs, (iv) disputes involving the development of small houses in the New Territories, (v) co-ownership disputes (including applications under the Partition Ordinance (Cap. 352)), (vi) alleged non-compliance of conditions under leases, guesthouse licences, etc., (vii) building management disputes (including water-seepage) and (viii) compulsory sale proceedings
Employment
Lam Sin-yi Sindy v Leung King-wai William t/a William KW Leung & Co:

[2021] HKCA 720 — resisting an application for leave to appeal on the ground that the Court of First Instance has the jurisdiction to draw factual inferences on appeal from statutory tribunals
[2020] HKCFI 2525 — reported at [2020] 5 HKLRD 170, appealing against a decision of the Minor Employment Claims Adjudication Board dismissing a claim for unpaid wages on the ground that there were special circumstances when the appellant tendered her resignation
Advising a statutory body on various employment issues (led by Senior Counsel)
Advising on and/or acting for parties in relation to issues such as (i) non-competition clause, (ii) termination of employment contracts, (iii) grant of statutory holidays/ rest days, (iv) dismissal and (v) potential discrimination claims etc.
General Civil Disputes
Judicial Review